Christian High School, Noklak was declared the winner of the Quiz Competition held on September 11 under the theme "HIV/AIDS and Sexually Transmitted Infection". The second position was secured by Holy Angel while St. Paul School bagged the third position.
The event was organised by the District AIDS Prevention and Control Unit (DAPCU) Tuensang in collaboration with Red Ribbon Club, Noklak and held at Christian High School, Noklak.
Four schools participated in the competition comprising of Christian High School, St. Paul School, Holy Angel School and Government Higher Secondary School Noklak. A total 87 students attended the event with five members from each school participating in the quiz competition.
Download Nagaland Tribune app on Google Play


During the event, Hentho, Counsellor, Integrated Counseling & Testing Center (ICTC) addressed the students on HIV/ AIDS awareness stating that HIV is a slow virus that affects and destroys the physical body. "When it attacks the immune system, the fight can prolong for 5-7 years after which the immune system is weakened and exposed to a number of illnesses. HIV transforms into AIDS," added Hentho.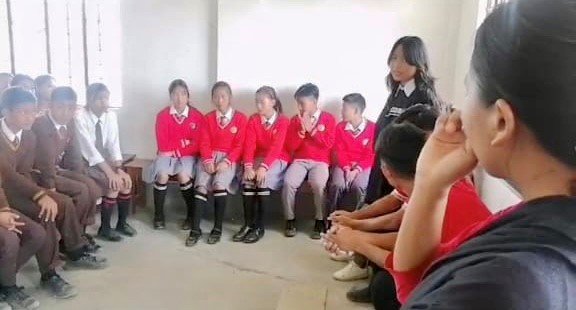 Discussing further on Sexuality Transmitted Infection (STI), Hentho asserted that it is important to get examined and treated as prescribed by the doctors. "Protection from STI also protects from HIV infection.  Those infected with STI are more prone to HIV," said Hentho highlighting the various ways through which HIV is transmitted such as unprotected sex, infected blood, needles and syringes, mother to child transmission. He also informed the students that tattoos and ear piercings are also ways in which HIV is transmitted among youngsters.
Preventive measures such as the need to withdraw blood only from licensed blood bank and use of protection during sexual intercourse were stressed.
The Speaker also intimated the students on other basic preventive measures and awareness of HIV informing the students that Blood test is the only way to know one's HIV status, and the need for early detection to maintain one's health for a longer period of time. He also stressed on the intake of ART (antiretroviral therapy) by infection persons for normal and healthier life stating that it is available at the District Hospital.
In conclusion, the Counsellor advised the students to be responsible in spreading awareness and knowledge in the community about HIV/AIDS and to take precautions, adding that they can dial the number 1097 to know more details.