The Dikhu Bridge, which lies between Mokokchung and Chare and serves as the lifeline road connecting Mokokchung district to Tuensang district has been damaged, leading to several stranded passengers.  The Dikhu Bridge is under Longsa Village of Mokokchung District.
Speaking to one of the truck drivers, Sukhim, who was on his way to Marianne from Noklak but got stranded, stated that the bridge got damaged last night when one of the trucks got stuck which led to further damage, leaving almost 30 to 40 vehicles stranded.
One of the stranded passengers of the Olympic Team from Noklak district said that they got stuck between 9-10 am this morning. There were 31 passengers seated inside the bus.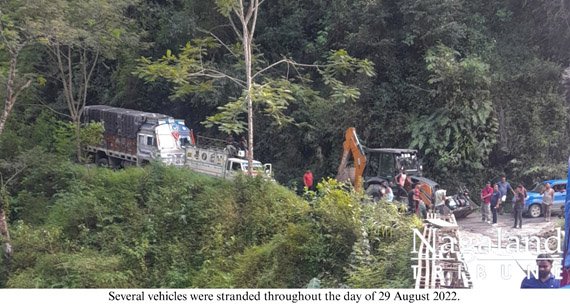 It was learned that the President of Khiamnuingan Students Union was also stranded inside the bus along with the other members, and he contacted nearby people for assistance. Bumeng, a jail guard, fortunately happened to be in Mokokchung and provided assistance with tea & snacks.
Many big vehicles including trucks and one NST bus got stranded along with the small vehicles.
It was learned that the bridge got damaged the previous night due to heavy loaded trucks.
Executive Engineer, PWD (R&B) National Highway, Tuensang, speaking to Nagaland Tribune, addressed the problems faced in regards to the bridge which is more than 40 years old. He stated that they have consistently informed the truck drivers not to carry more than 10 tonnes but this was not adhered to resulting in further damage of the bridge.
He also pointed out that in order to restore the bridge, it will take time due to insufficient materials available in the state which need to brought from Kolkata.
He further said that the road 0-95 highway which is from Sewak gate, Mokokchung Town to Tuensang NAP CAMP is currently maintained by NHIDCL.
The concerned authority is in talks with the District Commissioner of Mokokchung district for traffic advisory regarding travel between Tuensang–Mokokchung through an alternate route from Longmisa Village–Dikhu–Alisopur.
Under Mokokchung District, there are three bridges in total connecting Tuensang and Mokokchung which are all more than 40 years old and need special maintenance. PWD (R&B) is in talks with the NHIDCL to take over maintenance.