The Janata Dal United (JDU) Nagaland has accused the ruling United Democratic Alliance (UDA) government of trying to delay the elections of the Urban Local Bodies (ULB) despite a clear direction from the Supreme Court. The JDU Nagaland has also launched a poster campaign across the state as part of its first phase of agitation demanding immediate conduct of the ULB polls.
JDU unit general secretary Kitoho S Rotokha alleged that, despite clear directives from the Supreme Court, the UDA government is deliberately delaying the ULB elections simply because the unabated corruption in the local self-government manned by the chief executive officers is in connivance with the government of the day.
He added that it is going to be a litmus test for the ruling UDA government if election to the ULB is conducted now.
The Supreme Court on 29 July had issued directions to the Nagaland State Election Commission to complete the Urban Local Bodies (ULB) elections and declare results for the same by the end of January 2023.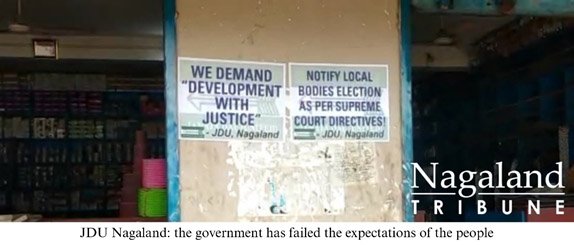 Rotokha pointed out that in 2001 when Nagaland state enacted the Municipal Corporation Act, two consecutive elections were held in 2002 and 2005. However, the then ruling government Democratic Alliance of Nagaland (DAN) in 2009 had abruptly dissolved the entire local self- government and constituted the Advisory Board comprising of their party workers and loyalists which unfortunately, he said, did not go well with the people and subsequently the government of the day appointed the district administrative officers in the rank of ADC to run the affairs of the local self-government.
"These two have miserably failed the expectations of the people for the past more than 13 years and therefore, there is a hue and cry that the election to the local self-government has to be conducted immediately," he stated.