The Southern Angami Youth Organization (SAYO) today initiated road repair works at NH-2 covering 26 kms from Phesama Check post to Khuzama check post.
Speaking to reporters, SAYO President Metekhrilie Mejura said SAYO has undertaken this road repair works in a voluntary basis as a goodwill gesture since the deplorable road conditions is proving to be a challenge to the commuters plying through this stretch, especially the student community, office goers and tourists.
He said that SAYO has engaged four excavators and four trucks which has been freely contributed by SAYO officials.
Despite criticisms meted out to the concerned contractors and companies who have undertaken the road construction project at NH-2, SAYO said at this time of need – when the incessant rainfall in the state is leading to more landslides and blockage of drainages which in turn is resulting in more road damages – it felt that the organization must extend their services and support to the construction companies, Fortune Group and the National Highway Infrastructure and Development Corporation Limited (NHIDCL).
"We the SAYO are very much concerned of our roads since the NH-2 is a historic road also, a stretch of the Second World War, and people keep coming to the famous Dzukou Valley from across the country and international countries. At least to ease up the traffic inflow and better driving," said the President.
"With the incessant rainfall creating more landslides and blocking the drainages, it is escalating more damages to the road. If we can surface the level and clear the drainages in whatever possible way we can," he added.
Meanwhile, Ruopfukuotuo, the SDO Civil of Jakhama who was present at the site, appreciated SAYO for undertaking the road repair initiative. Pointing out that the condition of roads is a concern for all, he said the initiative of SAYO exposes their grievances and concerns, not in a negative way, but through a constructive gesture.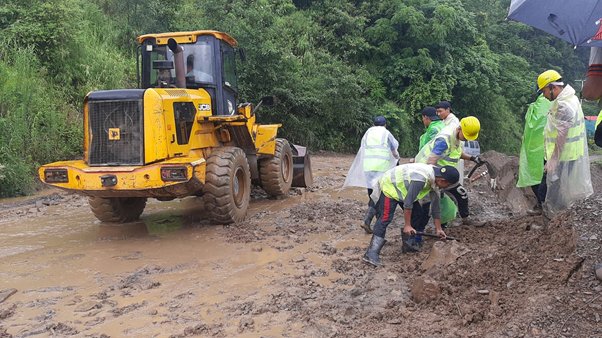 SAYO officials and volunteers repairing road at NH-2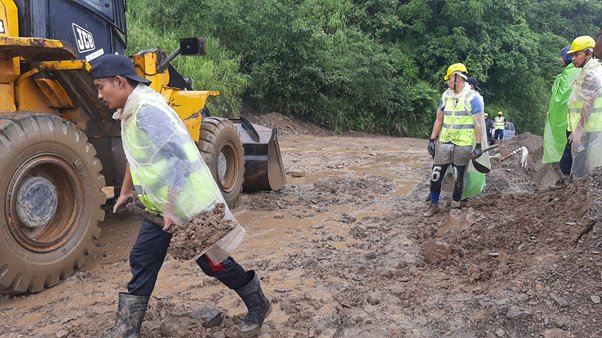 SAYO officials and volunteers repairing road at NH-2
SAYO officials and volunteers repairing road at NH-2
SAYO officials and volunteers repairing road at NH-2