The semi-final matches of the 19th Mungmung Football Tournament held on 29 August was a fierce battle between four prominent clubs of Kiphire: United Vikings vs Surayin FC and Abide FC vs United Sporting Club.
Aji scored the first goal for United Vikings while Ito scored two more followed by one goal by Toka Achumi and one by Mughapu.
With a total score of 5-1 against Surayin, United Vikings entered the grand final defeating Surayin FC.
The grand finale will be held on 6 September at Kiphire Local Ground.
The Abide FC, on the other hand, handed United Sporting Club FC a 2-0 loss bringing both United Vikings and Abide FC for the grand finale berth.
Longkoi scored the first goal whuke Beiakhin scored the winning goal for Abide FC to head to the grand finale.
Speaking with Nagaland Tribune, P Sekhaba, the convenor of United Vikings Club, pointed out that football in Kiphire has been progressing year by year and that players from all the clubs are showing better discipline and sportsmanship.
He mentioned that his team is ever ready and preparing even harder for the finals under their dynamic coach, Akai.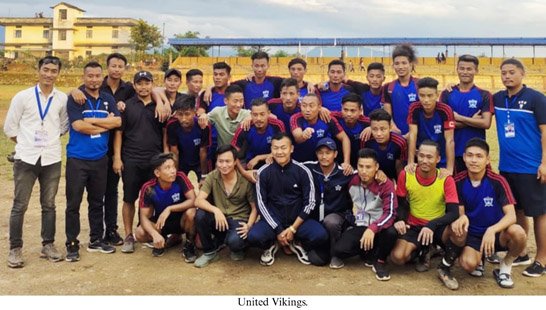 It is worth mentioning that Toka Achumi of United Vikings Club is also a renowned football player from Dimapur who represented Dimapur district in the recently held Nagaland Olympic & Paralympic Games 2022, of which the Dimapur team were the champions.
Apise, the president of Abide FC, said his team is working day and night to give their best in the grand finale match against United Vikings. He hopes that the final match will be worth the wait for the hundreds of football spectators in Kiphire.
Wishing the rival team all the very best, he said that he believes in the spirit of sports that the best will win the final.