An Anaemia Screening Camp was conducted by the District Health Society under Chief Medical Officer Noklak along with the Integrated Child Development Services today at Government Middle School Noklak. The screening camp was undertaken as part of the National Nutritional Week and the Rashtriya Poshan Maah 2022.
Under the supervision of Hosea DPM and P Hemping, Senior Supervisor, Department of Social Welfare, Noklak, the screening camp was conducted by a group of medical officers, lab technicians, nurses and Anganwadi workers of Noklak Town.
A total of 150 students were screened for anaemia. Supplementary food and IFA tablets were also distributed to the students.
The National Nutritional Week and the Rashtriya Poshan Maah 2022 was observed in a week-long programme in Noklak. An essay competition on the topic 'Healthy Lifestyle' was organized at Government High School, Noklak Village. Students were also given talks on health and healthy living by different speakers. CMO Dr Victor advised the students to develop good health practices for a healthy mind and living. Dr Meyachunla gave a talk on menstrual hygiene and nutrition. She encouraged the students to visit the adolescent-friendly clinic for any health-related issues.
Thongkoi H claimed the first position for the essay competition while Sulim S and Thym came in second and third respectively. Two consolation prizes were presented to Dongliu and Shongmao. The winners were awarded cash prizes.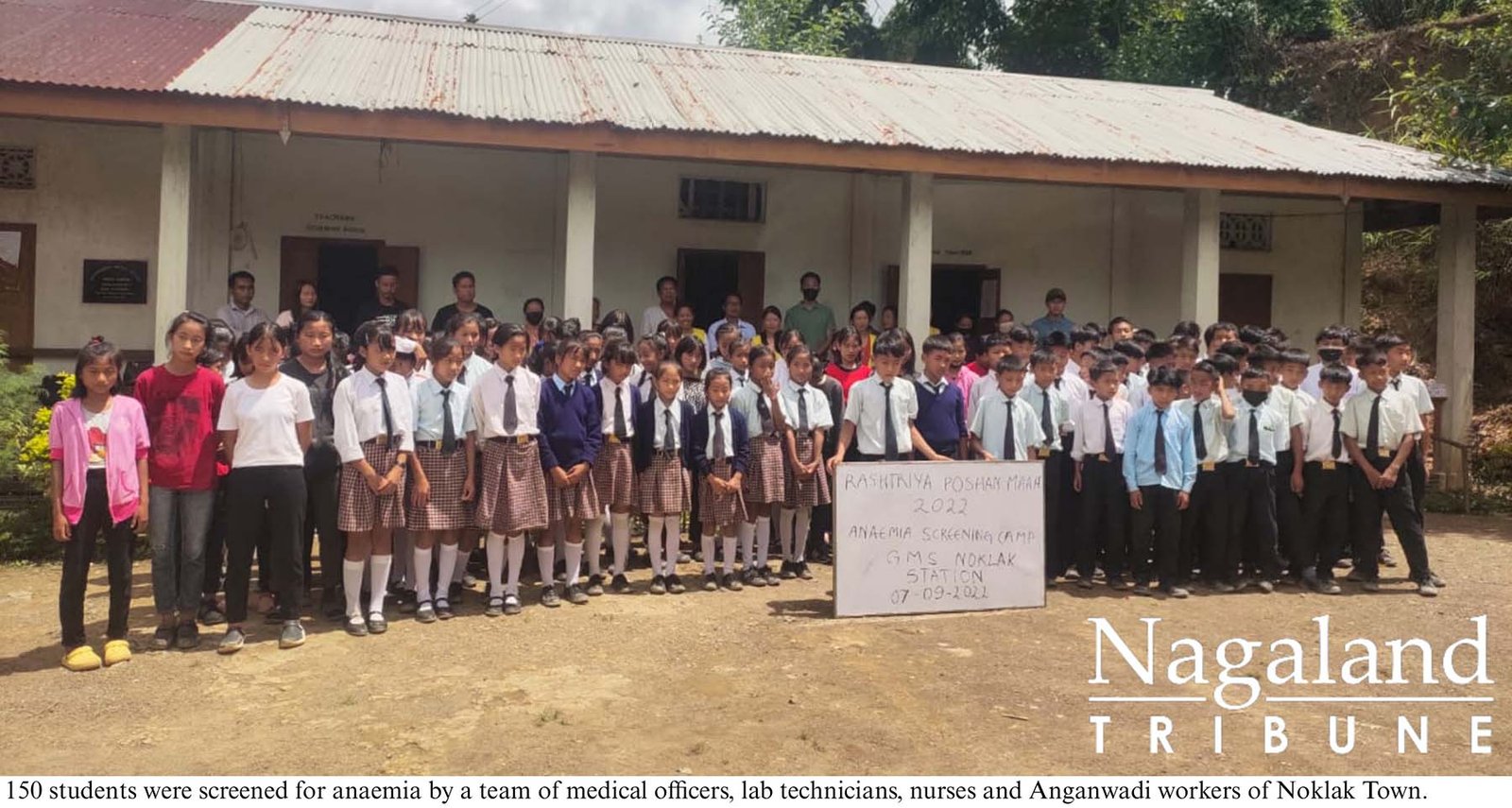 What is anaemia?
Anaemia is a condition in which the blood lacks the normal amount of healthy red blood cells (low haemoglobin concentration) for proper oxygen flow in the body. This causes symptoms such as fatigue, weakness, dizziness and shortness of breath. Nutritional deficiencies are some of the most common causes of anaemia. According to the World Health Organization (WHO), anaemia is particularly prevalent in low-income settings globally, with children and pregnant women being especially at risk. It is estimated that 42% of children less than 5 years of age and 40% of women worldwide are anaemic. (source: WHO)