ZUNHEBOTO: Celebration of Ujjwal Bharat, Ujjwal Bhavishya Power @ 2047 under Azadi Ka Amrit Mahotsav was held at Lizu Naghuto village Zunheboto on 29th July 2022 with Huska Yepthomi, Former President Sumi Hoho as the special guest.
Huska said the government has provided many schemes for the people and that Lizu Naghuto is blessed to avail of those. He called upon the people to be more responsible in the government's endeavor to provide better electricity to the people.
The program was chaired by Er Nuthozo Hoshi, JE (E), a welcome address by the District Nodal Officer, the keynote address by Er Aron Sema, EE (E) Zunheboto, a short speech by EAC Zunheboto, N Nyamok Konyak and vote of thanks by Chairman Naghuto Village Council, Lizu Naghuto Village Council.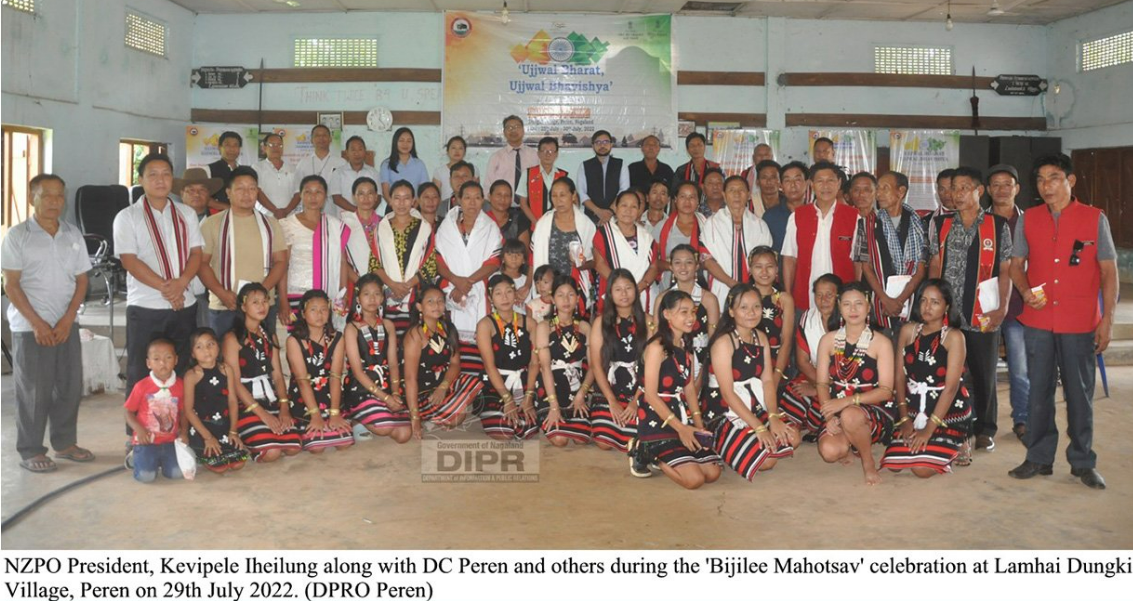 PEREN: Lamhai Dungki Village, Peren celebrated Bijlee Mahotsav under the theme: 'Ujjwal Bharat, Ujjwal Bhavishya' Power@2047 at its Village Council Hall on 29th July 2022. The event was graced by NZPO President, Kevipele Iheilung as the special guest.
Iheilung said in earlier days Pinewoods were used for lighting, however with time the Ministry is giving utmost importance to providing sufficient power supply to the people all across the country.
He lauded the villagers for clearing their electricity bills on time and further appealed to the Department to ensure a smooth power supply.
Others who spoke in the programme included: CGM, NEEPCO & State Nodal Officer for Nagaland, GoI, John Zeliang, and DC Peren, Vineet Kumar, IAS.
During the event, short films on Universal Household Electrification (REC), Village Electrification (REC), Distribution System Strengthening (PFC), Capacity Addition (NTPC), One Nation One Grid (PGCIL), Renewable Energy (SECI), and Consumer Rights (PFC) were also screened, while beneficiaries' testimony was done by Ighuneule. A cultural performance by Cultural Troupe Block 'A' Dungki and Nukkad Natak by Shine Artists were the other highlights of the day.
Earlier, the function was chaired by EAC Jalukie, Imtinungla Longkumer while a vote of thanks was proposed by Dungki Village Council Chairman, Namgong Ipuing.
NIULAND: Niuland District Administration along with the Department of Power Celebrated Bijilee Mahotsav at DC Conference Hall on 29 July 2022. Deputy Commissioner Niuland, Sara S Jamir acknowledged the Prime Minister for the ujjwal Bharat ujjwal Bhavishya program where all citizens and households have access to electricity in the district. Reflecting on the two villages ie Ghokuto & Ghokito under the Niuland district that was newly electrified, Sara reminded the gathering to use electricity judiciously and pay the electric bill on time.
ADC Niuland, Lemlila Sangtam while delivering the keynote address said India is the third largest producer and second-largest consumer of electricity worldwide, with an installed power capacity of 395.07 GW.
She said the main idea behind this celebration is to call on for more public participation and getting across the development in the power sector to citizens at large and urge citizens to unite and cooperate with the government and move ahead towards greater progress in the power sector in the district.
District Nodal Officer, Dalim Batman, DGM (Civil) NEEPCO, James G Zhimomi GB, and Viheto Chishi, Head GB delivered short speeches.
Various short films on NTPC, REC, PGCIL & PFC were presented to educate the citizens on the achievement of the Power sector in the country.
Viheto and Ghokito villagers presented cultural songs and Nukkad Natak by ethnic performing Arts.
The program was chaired by Er. Inaka Assumi, JE (E) Chumoukedima, and the vote of thanks was delivered by Ahoshe Kiho.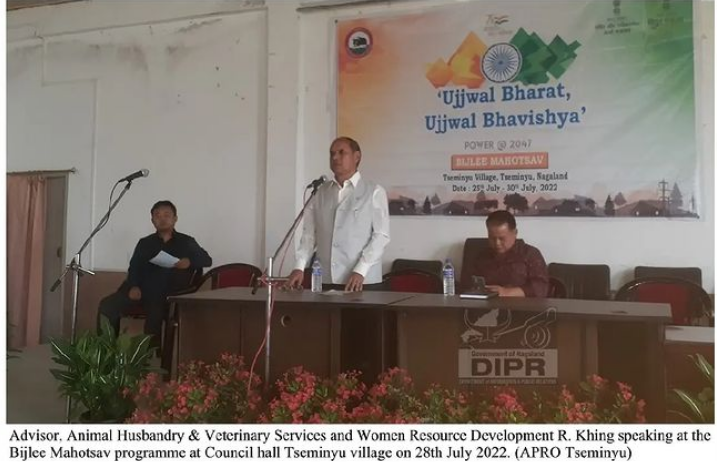 TSEMINYU: The Bijilee Mahotsav, Ujjwal Diwas programme was held on 28th July 2022 at Tesophenyu village council hall with R. Khing Advisor, Animal Husbandry and Veterinary Services and Women Development, Nagaland as a special guest. Er.M. Shitoi Manager (C) NEEPCO Ltd. Doyang delivered the keynote address.
The Bijli Mahotsav was used as a platform to celebrate the collaboration between state and central government.
The highlight of the programme was a cultural song by Tesophenyu Lorinyu Baptist Church women's department, a short film presented by Power Department, the programme was chaired by SDO (Civil) Tseminyu Tsutsowe Kupa, NCS, and a vote of thanks was delivered by VCC, TesophenyuSajukha Kath.
LONGLENG: In celebration of 75 years of Indian Independence Azadi Ka Amrit Mahotsav the Ministry of Power in association with the Power Department, NEEPCO and District Administration organize a Bijlee Mahotsav was held at Hamlikong & Oushok Village, Longleng on 27th & 28th July 2022 under the theme "Ujjawal Bharat, Ujjawal Bhavishya" Power@2047 with Deputy Commissioner Longleng, Dharam Raj IAS as special guest.
DC while addressing the gathering said educational facilities, medical, healthcare, or transportation everything works and functions under the utility of electricity. He said the Power department takes charge of providing electricity but it is not only their responsibility but includes the cooperation of the general public so that the system will run smoothly and benefit every single household.
District Nodal officer Er. Bendang, Dy GM, NEEPCO Ltd. Doyang delivered the keynote address.
As part of the event, testimonials on the electrification scheme were shared by the beneficiaries from Oushok Village, Nukkad Natak a drama played by ETC Naga and Pongmei Buchem team, cultural presentation by Oushok Village, Longleng.
Films on Universal Household Electrification, Village Electrification, Distribution System Strengthen, Capacity Addition, One Nation One Grid, Renewable Energy, and Consumer Rights were also screened during the program.
A vote of thanks was delivered by Moichung, SDO (Power) Longleng, and the program was chaired by Mr. Henaih Beshang (LDA) Power Department Longleng.