Following the mysterious custodial death of Henveih Phom (35) on 21 August while in the police custody of Assam's Sivasagar district, the Eastern Naga Students Federation (ENSF) held a peaceful protest on Friday in all of its seven federating unit headquarters in solidarity with the Phom brothers demanding for justice.
The ENSF and the Phom Students Conference (PSM) have suspected foul play in the death of Phom and demanded the constituting of a Special Investigation Team (SIT) under a competent investigating officer immediately to probe the mysterious custodial death of Henveih Phom in Assam's Sivasagar district and ensure justice by taking stringent action against the perpetrators under relevant sections of the law.
Sham-e Phom, General Secretary of Phom Students Conference, speaking to Nagaland Tribune said, "We demand the Nagaland State government, the National Human Rights Commission of India and State Human Rights commission to immediately constitute a Special Investigative Team before it triggers the peaceful harmony between the two states of Nagaland and Assam."
The student organisations have also appealed to the competent authority to understand the gravity of the incident, weigh all the pros and cons in a fair and unbiased manner, ensure that perpetrators of such crimes with unimaginable cruelty be brought to justice without any delay and deliver justice to the departed soul.
The ENSF on 25 August submitted a memorandum to the Chief Secretary of Nagaland expressing shock and dismay at the incident that took place on 16 August.
They alleged that Henveih, son of late Eshak Phom from Anaki-C village, was arrested by Assam Police from Anaki village jurisdiction (Nagaland) and remanded into Sivasagar District Jail, Assam.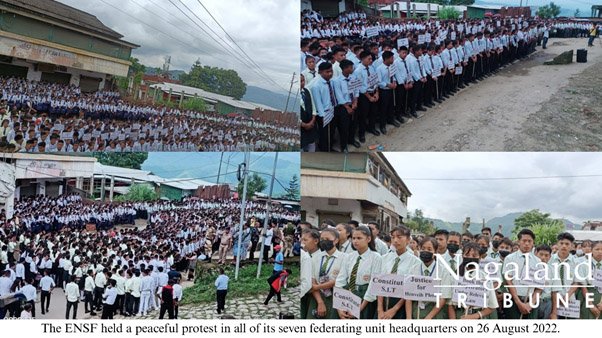 Henveih was brutally tortured and beaten by the Assam Police in broad daylight and lodged into Sivasagar District Jail. At the time of his arrest, his health condition was fit, ENSF stated in the memorandum. However, within six days of his arrest, he died in custody on 21 August in a very suspicious manner. The family was informed by the Assam Police only after his death and when the family reached the spot, the victim's body was found lying in a corridor at Joysagar Civil Hospital, Assam, it added.