SP Noklak, Dr Pritpal Kaur, IAS launched products by the Khiamniungan Women Weaving Co-operative Society branded Noklak Mothers' Love on 9 September at Noklak. The products include sanitary pads, traditional attires, jewelleries and gears.
Dr Pritpal Kaur in her speech applauded and encouraged the members of the society. She informed that the sanitary napkins produced by the women are sold at minimal price and even distributed for free. She added that programmes are organised on regular basis to create awareness on menstrual hygiene and proper management of used pads.
While encouraging the youth to take up entrepreneurship, Kaur specially mentioned the prospects of elloi niu (stinging nettle tree bark), a raw material available locally. She encouraged the youth as well as women in Self-Help Groups (SHG) to take advantage of the opportunities to empower themselves and the district. She said that the income generated from the sale of traditional and local products will not only uplift the people but also help the district attain self-sufficiency.
Speaking to Nagaland Tribune, President of Khiamniungan Meniu Hoikam (Khiamniungan Mothers Association), Niukai, stated that Noklak Mothers' Love begun with a vision to preserve and renew the practice of weaving, an art that is perishing. Since its inception in 2019, the society had been solely focussed on weaving activities.
However, the society ventured into sanitary pad making in 2021. Niukai added that the SP office, Noklak, and National Innovative Foundation (NIF) provided the Khiamniungan Women Weaving Co-operative Society a sanitary pad making machine and also training and free raw materials. While proudly declaring that 60-70 sanitary pads are produced per day, the president also rued about the challenges faced by the Society at times due to irregularity of electricity.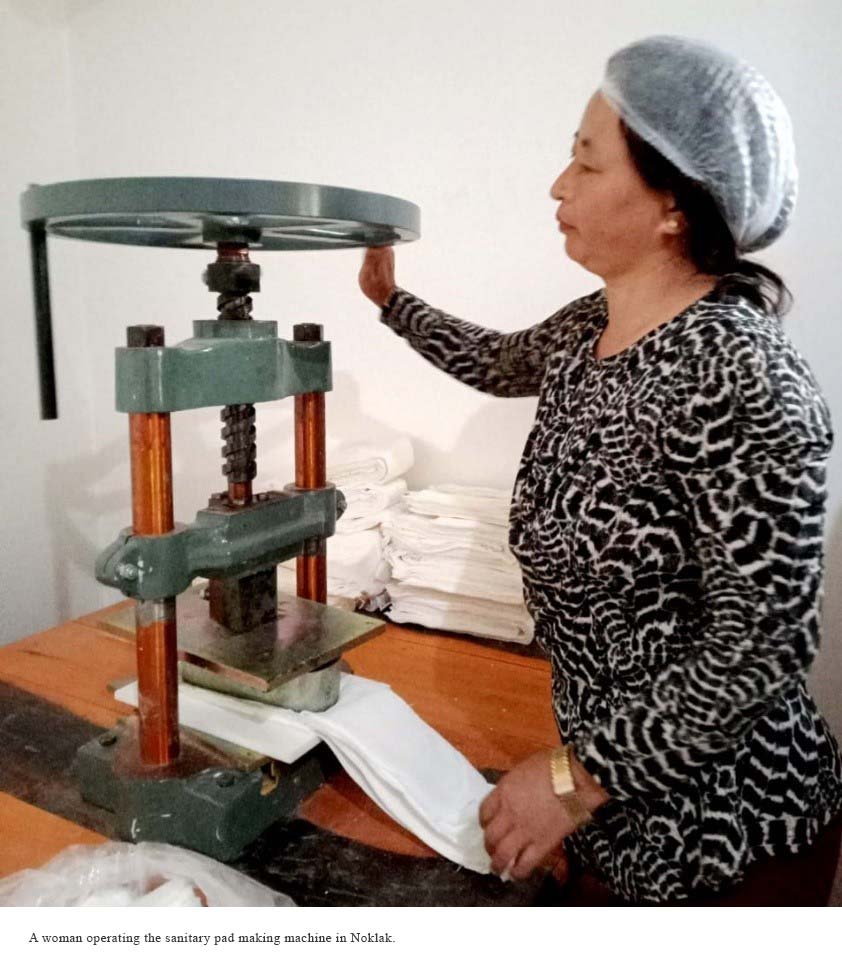 The society was part of an awareness campaign on menstrual hygiene from 7 to 9 September 2022 in Noklak. Sanitary napkins were distributed to girls of Kasturba Gandhi Balika Vidyalaya (KGBV) hostel, women from Lengnyu Village and street vendors in Noklak town.