Postal Employees' Union, Nagaland Division along with the rest of the country took part in the 'one-day nationwide strike' outside All India Post office Kohima, on August 10, called by the National Federation of Postal Employees (NFPE) against the proposed corporatisation and privatisation of various arms of the department and in support of the 20 points charter of demand.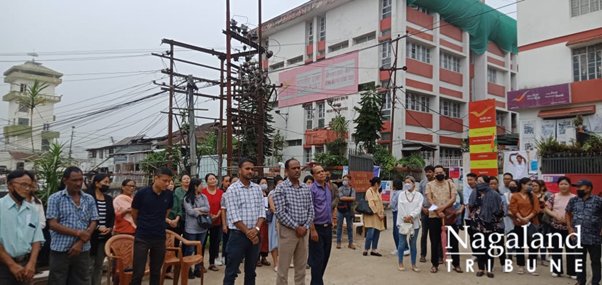 The one-day nationwide strike has also severely affected the state as all public transactions in the post offices across Nagaland remain were temporarily halted.
The striking unions have called the Centre's move to outsource some of the postal services to external agencies and bring large sections of the workforce under the scope of temporary employment confrontational.
Some of the main demands include –
Stop Corporatization move in form of Dak Mitra Scheme, Common Service Centre.
a) Stop migration of POSB into IPPB Ltd.
b) Withdraw RTN and stop abolishing of RMS sections. Strengthen L2 mail offices.
c) Stop Nodal Delivery Centres of Parcels and Central Delivery Centres of Speed Post letters.
d) Stop downsizing and decentralisation of Postal Accounts.
e) Ensure Time factors for all new works.
Scrap NPS and restore OPS for all.
Ensure updated technological infrastructure.
Fill up all vacant post in all cadres. One time relaxation to fill up all vacant posts of HSG-II & HSG-I. Conduct Dept Exam of Postal Accounts at the earliest.
Grant status and social security to GDS. Implement all pending economic issues with reference to Kamlesh Ch. Committee. Grant Trade Union Facilities.
6.Stop attack on trade union and trade union victimization.
Maintain separate identity of all cadres like PACO.
Immediate cadre restructuring in all left out cadres. Further cadre restructuring in Group 'C'.
Regularization of all casual/DRM, Absorb Part time, full time casual Labourers against MTS/GDS.
50% Quota in PA/SALGO Examination to the Postman/Mail Guard/MTS.
Five Days week in Postal, RMS & MMS offices – etc.