The weeklong Youth Advance Training Programme organized by Southern Angami Youth Organization (SAYO) in collaboration with various government departments and organisations culminated here at Thiazu, Mima Village under Kohima District today.
Speaking at the valedictory function, Medo Yhokha, Advisor of Technical Education and Election said that advancement in society will start with the commitment of those youths who decide to go back and reverse negative aspects right from the individual level. He expressed hope that the youth training will bear deep meaning and also inspire youths to explore our strength and resources to build a vibrant, dynamic society through a renewed perspective.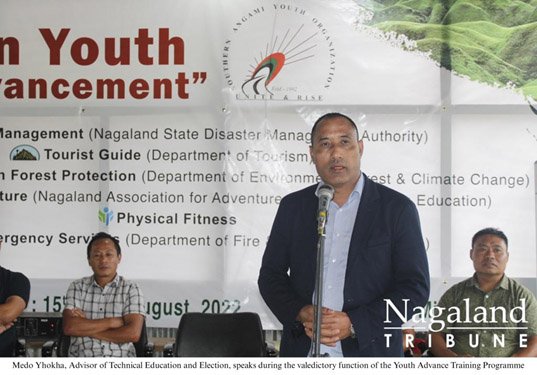 Yhokha pointed out that society will not progress if one confines oneself to complacency towards the village quarters, negativities and rigid mindsets. He added that the region is a home of opportunities and resources in the sectors of educational institutes, natural resources, eco-tourism etc.
The advisor said the training is an investment in the youths to nurture and identify skills and talents where one has to rise above one's comfort zone and create platforms.
During the training programme, the Department of Tourism provided sessions on areas of tourism and tourist guides. The Nagaland Association for Adventure & Mountaineering Education (NAAME) gave practical sessions on trekking, tour guiding tips and techniques, sports, mountaineering and yoga. The District Disaster Management Authority, Kohima, Government of Nagaland gave disaster response demonstration and training. Other activities included Physical Fitness training and Arm Wrestling Competition.
87 Youths from the 13 villages of the Southern Angami region were handed certificates of completion and also given identity cards as tourist guides and SAYO advanced team.